Neuropelveology

What is Neuropelveology?
Neuropelveology is an exciting new pelvic surgical discipline founded by Professor Marc Possover that deals with the diagnosis and treatment of conditions that affect pelvic nerves. Professor Possover's many years of pioneering work on the surgical and neuro-functional anatomy of pelvic nerves combined with his innovative therapeutic approaches have greatly improved our understanding of the workings of the pelvic nervous system.
How can Neuropelveology help with gynaecological surgery and beyond?
Our traditional understanding of pelvic nerves has been rather limited as they are rarely encountered during the usual practice of benign gynaecological surgery. This is also true in the practice of other pelvic surgical specialties such as in colorectal surgery and urology surgery. However, during radical surgery for cancers of the cervix, bowel and prostate, the pelvic nerves that innervate these pelvic organs can be injured. Therefore, over the years, special surgical techniques called Nerve-Sparing Surgery have been developed in the field of cancer surgery to minimise damage to these nerves in order to preserve pelvic organ functions. Thus a lot of our knowledge of pelvic nerves and nerve-sparing surgeries have been derived from specialty-specific oncological (cancer) work. However, a surgical specialty that encompasses the wide range of conditions affecting pelvic nerves did not exist, until the founding of Neuropelveology. Neuropelveology therefore crosses the traditional medical specialty boundaries and fills a large void in our understanding of pelvic nerves.
Neuropelveology equips gynaecologists and other pelvic surgeons with in-depth knowledge of pelvic nerves in order to safely manage more complex pathologies that involve pelvic nerves. It teaches surgeons 1) safe nerve-sparing surgery when possible, 2) how to recognise and manage nerve injury when it does occur and 3) safe, proven approaches to deal with complex diseases involving pelvic nerves, such as pelvic nerve schwannoma.
Neuropelveology has also developed a number of groundbreaking innovative therapeutic applications as listed below
What are some of the conditions that Neuropelveology can help?
Typical conditions that benefit from application of Neuropelveology knowledge:
Advanced application of Neuropelveology: (Not performed by Dr Chou)
Laparoscopic Implantation Of Neuroprothesis (LION) procedure for chronic pelvic pain unresponsive to conventional treatments
Laparoscopic Implantation Of Neuroprothesis (LION) procedure for refractory pelvic organs dysfunctions
Laparoscopic Implantation Of Neuroprothesis (LION) procedure for spinal cord injury patients
The main applications of Neuropelveology for Dr Chou at this stage are for: Nerve Sparing Excision of Endometriosis for severe DIE, excision of endometriosis from pelvic nerves including Sciatic Nerve, Obturator Nerve, Pudendal Nerve and Lumbosacral Plexus, Vascular Entrapment Syndrome & Schwannoma.
Neuropelveology and Nerve-Sparing Endometriosis Excision Surgery
Endometriosis is a common gynecological condition that affects 1 in 10 women and is a common cause of pelvic pain and infertility. Endometriosis can be classified into 3 different types: 1) Superficial Peritoneal Endometriosis, 2) Ovarian Endometriotic Cyst (endometrioma / chocolate cyst) and 3) Deeply Infiltrative Endometriosis (DIE). Thankfully, the vast majority of patients have superficial peritoneal endometriosis and they are generally not as aggressive. DIE on the other hand, can be very aggressive and can "grow" into adjacent pelvic organs including the vaginal wall, bowel, bladder and ureter. It can also grow around the previously mentioned pelvic nerves that innervate the pelvic visceral organs, and pelvic and lower limb skeletal muscles. The nerves that innervate the visceral pelvic organs are very delicate structures located deep in the pelvis and are called autonomic nerves. These are the same nerves that nerve-sparing cancer surgery aims to preserve. In very severe cases of DIE, disease can involve the pelvic spinal nerve roots that arise from the spinal cord, usually from the second to the fourth sacral nerve roots (S2-S4). The principle of Nerve-Sparing endometriosis excision surgery is the same as that of Nerve-Sparing cancer surgery, which is to minimize damage to these nerves in order to preserve organ function. This is particularly important when dealing with severe DIE involving the bowel where significant bowel surgery might be required.
Nerve-Sparing endometriosis excision surgery for severe cases can be more difficult than cancer surgery as the anatomy can be markedly distorted from severe scarring and fibrosis from the disease process.
DIE as mentioned above, can involve the fine delicate pelvic autonomic nerves and even the sacral nerve roots. In more extreme cases, endometriosis can affect the largest and longest nerve in the body called the Sciatic Nerve, which innervates muscles of the leg. In contrast to the autonomic nerves, nerves that supply skeletal muscles are called somatic nerves. The sciatic nerve is formed in the pelvis and travels out of the pelvis to the leg. It is the portion of the sciatic nerve that is in the pelvis that can be affected by endometriosis. Whilst most cases of sciatic endometriosis are due to the endometriosis spread from the centre of the pelvis, in rare cases endometriosis is only found over the sciatic nerve. Such cases are called isolated sciatic nerve endometriosis.
Surgery for sciatic nerve endometriosis requires specialised neuropelveology knowledge and skill set. Please see Neuropelveology Procedures and the links at the end of the page for a more detailed description of diagnosis and treatment of this uncommon condition.
Neuropelveology advocates for a laparoscopic approach to conditions affecting pelvic nerves, over the traditional open, laparotomy approach. Robotic surgery is the most advanced form of laparoscopic surgery with improved vision, instrumentation and control, which complements delicate neuropelveological procedures. Dr Chou feels very privileged to have been under the tutelage of Professor Marc Possover, the founder of the discipline, and has achieved the highest, International Society of Neuropelveology Level 3 Certification. He has been performing robotic surgery since 2011 and feels that it significantly facilitates neuropelveological procedures.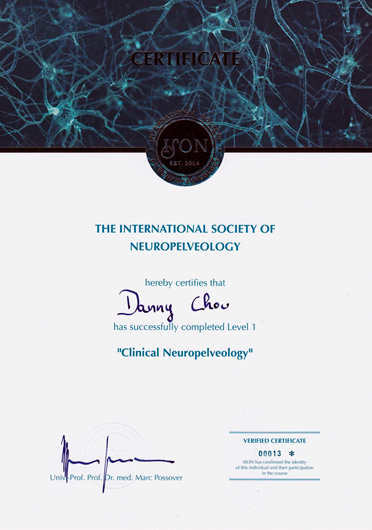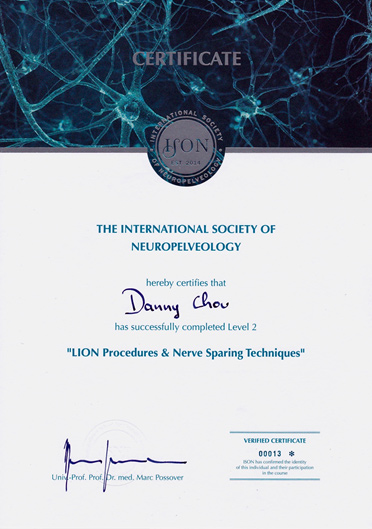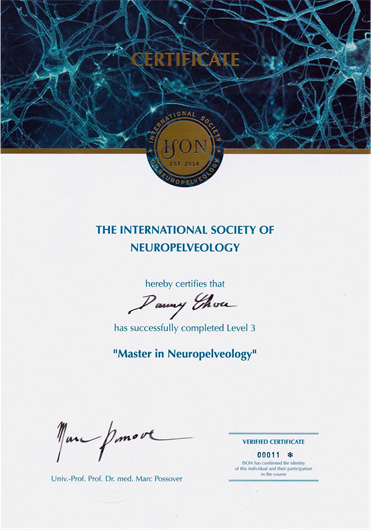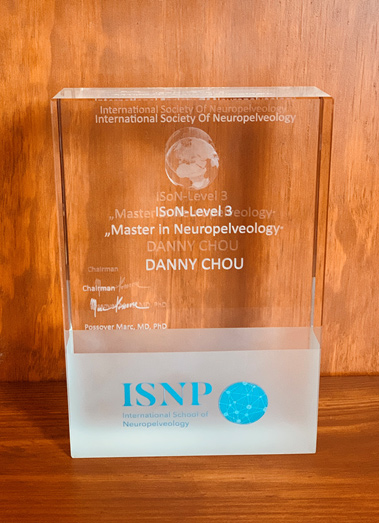 Helpful Links:
Dr Chou's publication on sciatic endometriosis
Endometriosis Involving the Sciatic Nerve: A Case Report of Isolated Endometriosis of the Sciatic Nerve and review of the Literature.
Dr Chou's blog on Endometriosis Australia
Endometriosis in and around the nerves - What can be done?
Professor Marc Possover's article on Sciatic Endometriosis on his website
Endometriosis of the Sciatic Nerve and the Sacral Roots: Diagnosis and Treatment in Neuropelveology