Robotic Surgery
What is robotic surgery?
Robotic surgery is the most advanced form of laparoscopic surgery, commonly known as "keyhole surgery", where the operation is carried out through a series of small incisions with the use of a thin surgical telescope called laparoscope and long thin instruments. Laparoscopic surgery avoids the need for the large abdominal incision required for traditional open surgery.
How is robotic surgery carried out?
The robotic system consists of 3 components: surgeon console, patient cart and vision cart (Fig 1&2). Unlike conventional laparoscopic surgery where the surgeons hold and control the laparoscope and the laparoscopic instruments to perform the surgery, in robotic surgery, the robotic arms of the patient cart hold the robotic instruments. The primary surgeon controls these robotic instruments from the surgeon console in a comfortable seated position.
What are the main differences between robotic surgery and conventional laparoscopic surgery?
There are 3 main differences between robotic and conventional laparoscopic surgery.
Improved vision

A conventional laparoscope gives a 2D image whereas in robotic surgery, the laparoscope uses 3D high definition technology with higher magnification, providing superior depth perception and more accurate spacial orientation. Another aspect of robotic vision is that the image is absolutely still as the telescope is held by a robotic arm. (Fig 3.)

Enhanced instrumentations

Conventional laparoscopic instruments are miniature versions of standard surgical instruments with long thin shafts that are now referred to as "straight sticks" as opposed to "wristed" robotic instruments. Sophisticated robotic technology allows the robotic instruments to bend and rotate like human wrists but with a much greater range of movement and wider degree of freedom.

More precise control of instruments

Conventional laparoscopic instruments are difficult to control as they are long and the surgeon often needs to move his / her hand holding the instrument in the opposite direction to where the tip of the instrument inside the abdomen needs to go. This counter-intuitive relationship is referred to as the fulcrum effect. In Robotic surgery however, the surgical instruments are held steady by the robot, which in turn is controlled by the surgeon from a console beside the operating table. The robotic technology eliminates the difficulty of fulcrum effect and allows the surgeon to control the fine instruments more intuitively. Therefore, to move an instrument to the right the surgeon simply has to move his / her hand to the right and visa versa. Additional enhancements of robotic controls include tremor filtration and motion scaling where the computer miniaturises the surgeon's movement for more precision and accurate surgical dissection and tissue handling.
What are the benefits of robotic surgery?
Robotic surgery, like conventional laparoscopic surgery, has the following proven benefits:
Smaller incisions with a better cosmetic result and less wound related complications compared to open surgery
Less blood loss
More precise and delicate surgery with less internal scar formation (adhesions)
Less postoperative pain
Shorter hospitalisation
Quicker recovery
Earlier return to work and normal activities
Robotic surgery facilitates difficult surgical tasks and can make difficult complex procedures easier
Can anyone perform robotic surgery?
To perform robotic surgery, one needs to complete a specialised robotic training program. Dr Chou started his training in robotic surgery in 2011 and has performed well over 350 robotic cases as of June 2020. Since 2014, Dr Chou has been demonstrating Live Robotic Surgery at Sydney Women's Endosurgery Centre's Advanced Gynaecological Laparoscopic Workshops on a regular basis. He is a da Vinci Robotic Surgery Trainer and is constantly involved with surgical innovations, research and training.
Is robotic surgery safe?
The da Vinci Robotic System was approved in the USA in year 2000 and introduced to Australia in 2003. Since then, thousands of units have been installed across the globe and over 6 million procedures have been performed, across multiple surgical disciplines. The system is now on its 4th generation with countless innovations and refinements. Robotic surgery is considered a very safe technology with various enhancements that enables complex surgeries to be performed in a minimally invasive fashion.
Robotic surgery, as with any surgical procedure, has inherent risks. These risks are largely related to the type of procedure being performed and individual patient factors. The use of robotic technology does not completely eliminate the risks involved with surgical procedures. A very important factor in the safety of a surgical procedure is the training and experience of the surgeon performing the procedure.
What procedures are best suited for robotic surgery?
Any laparoscopic gynaecological procedure can be performed robotically but the true value of robotic surgery is when it is applied in the more complex and difficult cases where the enhanced robotic capability can be fully utilised. Some of such benign gynaecological cases include the removal of large fibroids and difficult hysterectomies. The enhanced vision, increased maneuverability and more accurate control of instruments are also helpful in severe endometriosis where the anatomy can be markedly distorted. Robotic surgery is particularly suited for Neuropelveology procedures, such as nerve-sparing endometriosis excisional surgery and for cases of sciatic nerve endometriosis. Robotic surgery greatly facilitates surgical suturing therefore procedures requiring delicate microscopic suturing such as reversal of tubal ligation is a perfect robotic case. Other suture intensive gynaecological procedures include the removal of fibroids, myomectomy where the uterus needs to be suture repaired following the removal of fibroid from the uterus; and Sacrocolpopexy, which is an advanced pelvic organ prolapse repair procedure for severe prolapse.
Helpful Links: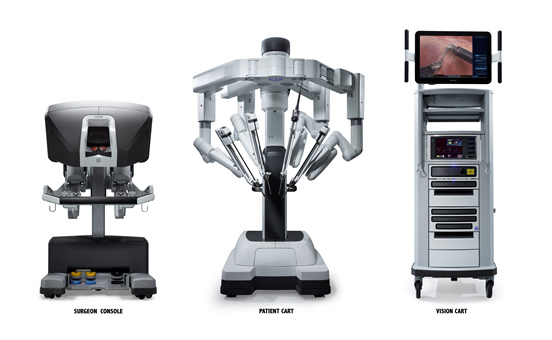 Fig 1. Surgeon console, patient cart and vision cart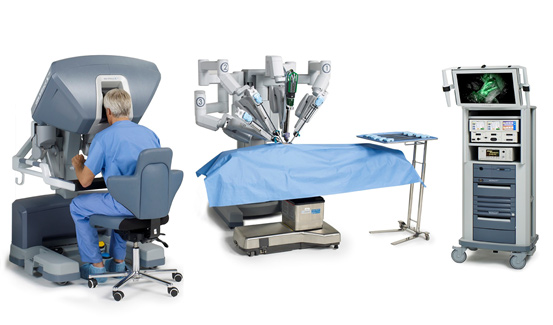 Fig 2. Surgeon console, patient cart and vision cart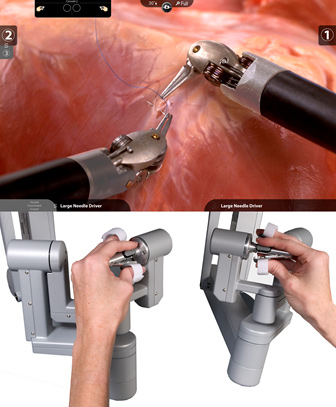 Fig 3. View from surgeon console and controls